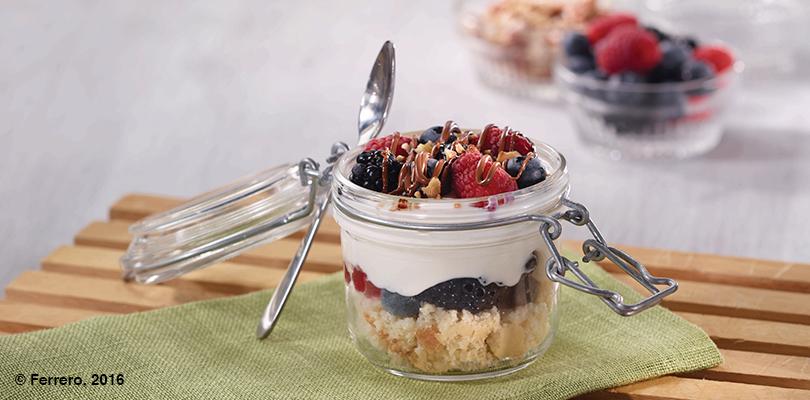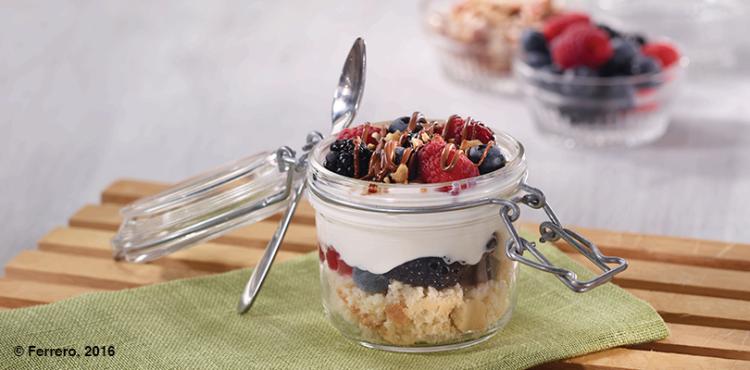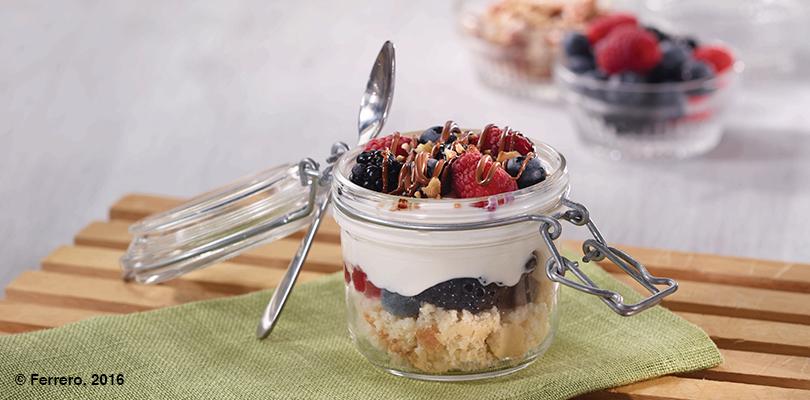 TRIFLE (SPONGE CAKE) PARFAIT WITH NUTELLA®
Discover our product
Yields: 12 Parfaits
Portion: 1 Parfait
INGREDIENTS
250 g Nutella®
1 Kg plain yogurt
550 ml blueberries
270 ml raspberries
270 ml blackberries
72 g toasted hazelnut pieces
2 scones crumbled
SCONE MIXTURE
480 ml all-purpose flour
80 ml sugar
18 g baking powder
9 g salt
120 ml blueberries
120 ml cold butter, cut into 1 cm cubes
240 ml whipping cream, divided
Yogurt parfait
Vegetarian
Breakfast Mid-morning
Summer
PREPARATION
METHOD
Preheat oven to 230°C. Stir together first 4 ingredients in a large bowl. Cut butter into flour mixture with a pastry blender until crumbly and mixture resembles small peas. Freeze for 5 minutes.
Add 180 ml of cream and 18 g blueberries, stirring just until the dry ingredients are moistened. Turn dough out onto wax paper; gently press or pat dough into a 18 cm round. Cut round into 8 wedges.
Place wedges 5 cm apart on a lightly greased baking sheet. Brush tops of wedges with remaining 36 g cream just until moistened.
Bake at 230°C for 13 to 15 minutes or until golden.
ASSEMBLY
Put crumbled scone on bottom of parfait.
Mix berries together. Layer scone with 18 g of berry mixture.
Top berries with 85 g of plain yogurt.
Top with 18 g of berry mixture and top with 18 g of toasted hazelnut pieces.
Drizzle with Nutella® .
NUTELLA® is a registered trade mark of Ferrero SpA. Any use of the NUTELLA® trade mark must be authorized by the trade mark owner. Please refer to Ferrero Food Service team and the brand guidelines published on this website for further information on any intended commercial use.