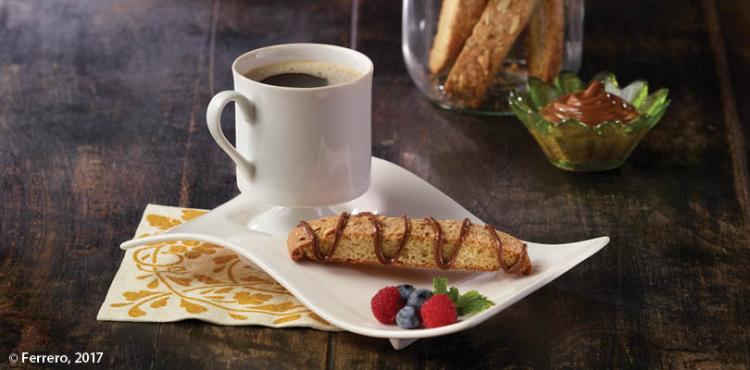 ALMOND BISCUITS WITH NUTELLA®
Discover our product
Yields: 12 servings.
Portion: 1 almond biscuits
INGREDIENTS
170 g Nutella®
12 Almond Biscuits, 200 g each
INGREDIENTS FOR 50 ALMOND BISCUITS
90 g butter
175 g granulated sugar
100 g eggs
1 g salt
0.25 g vanilla
250 g flour
2.5 g baking powder
125 g toasted almonds
Cookies & Biscuits
Vegetarian
Dinner Lunch
All year round
PREPARATION
Prepare your favourite Almond Biscuits recipe, then let it cool to room temperature.
Place the Almond Biscuits with the best side up on greaseproof paper.
Pipe a decorative design of Nutella® onto the biscuits.

METHOD
Mix together the sugar, eggs and salt, and separately mix together the flour, baking powder and vanilla. Combine the two mixtures and add the butter, mix together and then finally add the almonds.
Once the dough is ready, leave it to rest for 1/2 hour, then divide the dough into cylinders and place onto a baking tray covered with baking paper. Brush with egg and bake in a static oven at a temperature of 200° for approx. 20 mins.
Leave them to cool and proceed to cut them with a serrated knife into biscuits of approx. 1.2 cm in width.
Place them onto the baking tray and proceed to toast them at a temperature of 160° for approx. 15 minutes.
Leave them to cool down and enjoy them as you wish.
NUTELLA® is a registered trade mark of Ferrero SpA. Any use of the NUTELLA® trade mark must be authorized by the trade mark owner. Please refer to Ferrero Food Service team and the brand guidelines published on this website for further information on any intended commercial use.