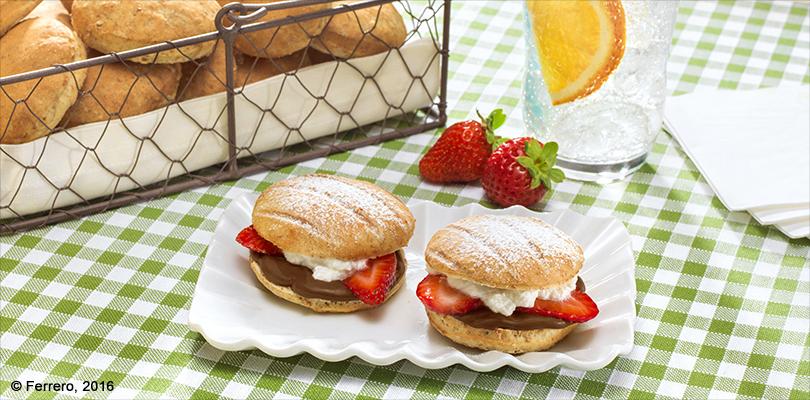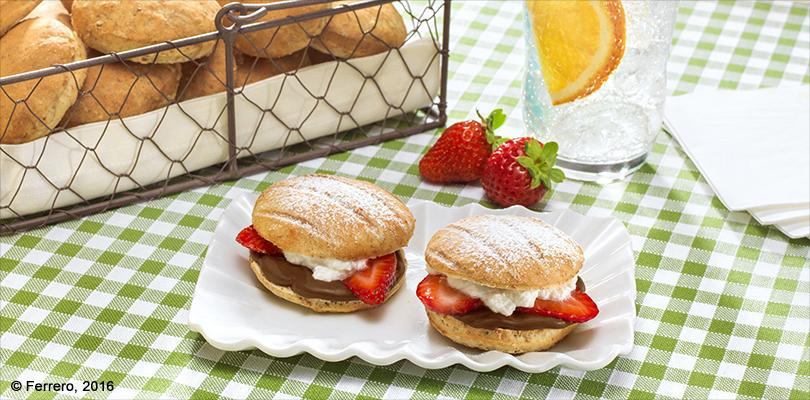 MINI-SANDWICHES WITH NUTELLA® AND STRAWBERRIES
Discover our product
For 20 mini-sandwiches
2 mini-sandwiches per portion.
Ingredients
20 mini-sandwiches
150 g Nutella®
200 g sliced fresh strawberries
50 g ricotta
Icing sugar, as required
Ingredients for the rolls
500 g whole-wheat flour
33 g sugar
7 g salt
24 g butter
240 ml whole milk
33 ml water
17 g brewer's yeast
Pizza / Sandwiches
Vegetarian
Mid-afternoon Mid-morning
Banqueting Summer
Procedure:
Slice the bread rolls in half. Spread the Nutella® on the bottom half of the roll. Add the strawberries and ricotta and put the top half back on.
Warm the rolls under the grill, making sure that the Nutella® does not melt and serve warm with a sprinkling of icing sugar.
Recipe for the rolls:
Mix all the ingredients until the dough is smooth and even.
Form small balls of dough weighing 40 g, press down gently on them and allow to rise for around 2 hours.
Bake in the oven at 180° C for 15 minutes.
NUTELLA® is a registered trade mark of Ferrero SpA. Any use of the NUTELLA® trade mark must be authorized by the trade mark owner. Please refer to Ferrero Food Service team and the brand guidelines published on this website for further information on any intended commercial use.