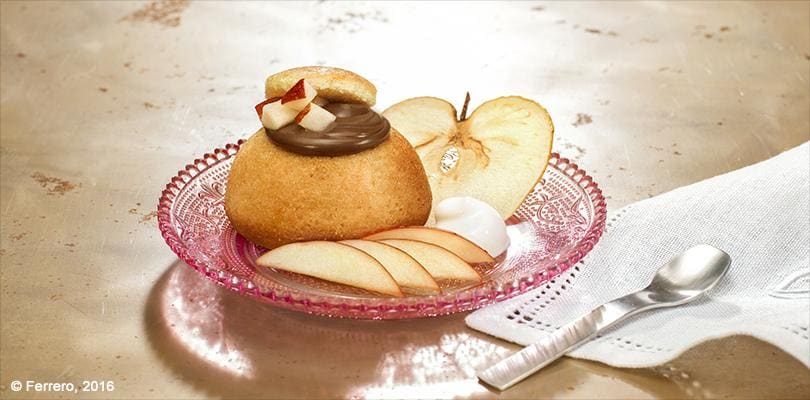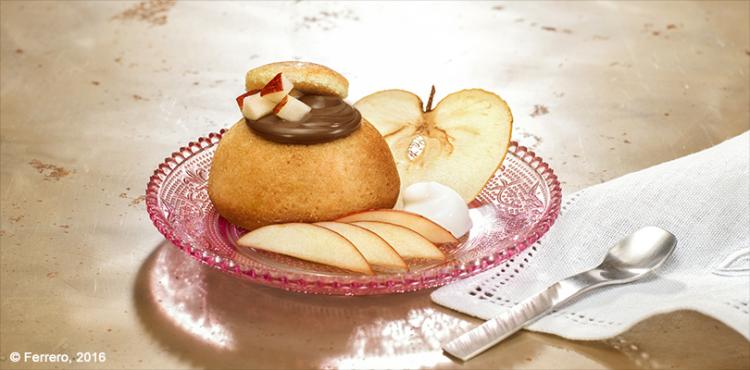 YOGURT POUND CAKE WITH NUTELLA AND APPLES®
Discover our product
Serves 10
Apple cubes:
1 Rennet apple (about 200g)
50g water + 50g sugar + a few drops of lemon juice
Cake:
125g butter (at room temperature)
140g caster sugar
1.25g salt
100g egg (at room temperature)
100g plain soft wheat flour
100g almond flour
5g baking powder
63g rice flour
60g Greek yoghurt + 2 drops of lemon juice
23g cream
Cakes / Mini Cakes
Vegetarian
Breakfast Mid-afternoon
All year round
Preparing the syrup:
Bring the water to the boil with the sugar. Leave to cool, then add the lemon.
Peel the apple and cut it into little cubes. Put them in the syrup, and leave in the fridge.
Procedure:
Beat the butter well with the sugar and salt. Gradually add the egg, sieved flours, yeast, yoghurt and cream.
Pour the mixture into 60g single-portion moulds (greased and sprinkled with flour) and bake at 175° for about 20/25 minutes
Leave to cool completely, then use a cylindrical pastry cutter to cut out a little hole in the middle.
Put some Nutella and a few apple cubes in the hole, then cover with the piece of cake removed.
NUTELLA® is a registered trade mark of Ferrero SpA. Any use of the NUTELLA® trade mark must be authorized by the trade mark owner. Please refer to Ferrero Food Service team and the brand guidelines published on this website for further information on any intended commercial use.