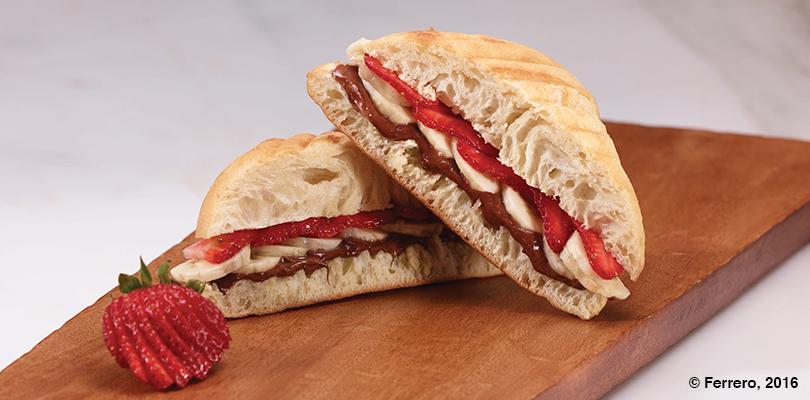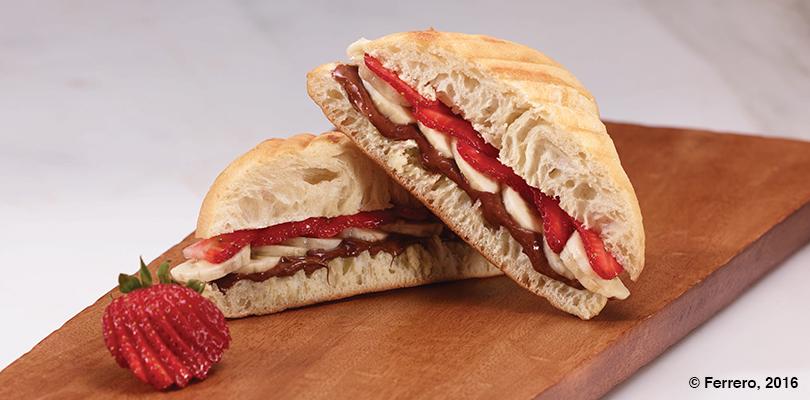 STRAWBERRY & BANANA CIABATTA WITH NUTELLA®
Discover our product
Yields: 9 servings
Portion: 1 panini
Ingredients
18 slices (4 cm thick) sliced premium
ciabatta bread (10x10 cm) 50 g each
250 g Nutella®
2 l fresh sliced bananas
2 l fresh sliced strawberries
60 ml powdered sugar to dust
Pizza / Sandwiches
Vegetarian
Lunch Dinner
Summer
Preparation:
Make fresh to order.
Heat panini grill to medium-high heat. Press bread on grill for marks. Remove.
Spread 14 g of Nutella® over one piece of toast. Assemble fruit on top of bread and place second piece of bread spread with 14 g of Nutella® on top.
Sprinkle with 2-3 g of powdered sugar (optional).
NUTELLA® is a registered trade mark of Ferrero SpA. Any use of the NUTELLA® trade mark must be authorized by the trade mark owner. Please refer to Ferrero Food Service team and the brand guidelines published on this website for further information on any intended commercial use.