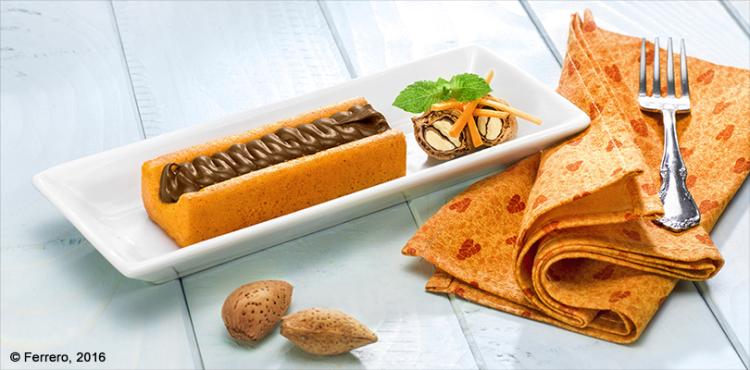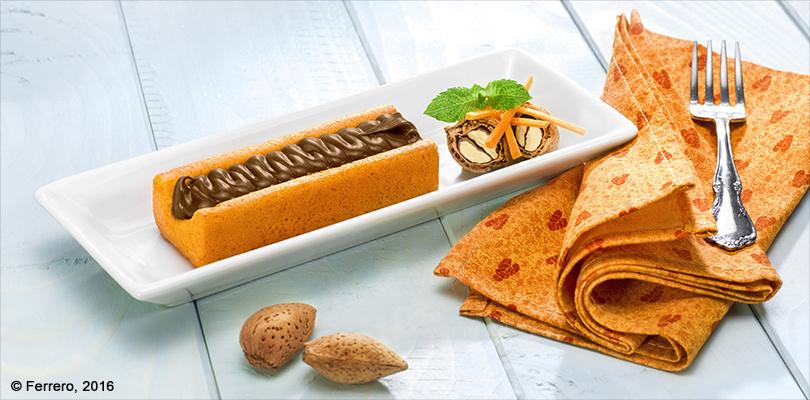 MINI CARROT CAKE WITH NUTELLA®
Discover our product
Serves 10
Ingredients
4 egg yolks
38g caster sugar
12g honey
0.5g table salt
1g grated lemon rind
1g grated orange rind
25g hazelnut flour
75g almond flour
75g grated carrots (dried)
4 egg whites
50g caster sugar
75g plain wheat flour
2.5g baking powder
1 vanilla pod
150g Nutella®
Cakes / Mini Cakes
Vegetarian
Dinner Lunch
All year round
Procedure:
Whip the yolks with the 38g of caster sugar, plus the honey and flavourings.
Whip the egg white with the 50g of caster sugar. Try to keep it glossy and stop it from falling apart when beaten too much.
Sieve the wheat flour with the almond flour and hazelnut flour, adding the baking powder and salt.
Combine the three mixtures, alternately adding parts of the second (flours) and third (egg white) to the first.
Carefully add the carrots, stirring gently to keep the whole mixture together.
Pour the mixture into silicone moulds (9.5x3.5, 2.5cm high) - about 50g per mould.
Bake at 175° for approx. 15 minutes. Leave to cool, then add 15g Nutella® to each cake.
NUTELLA® is a registered trade mark of Ferrero SpA. Any use of the NUTELLA® trade mark must be authorized by the trade mark owner. Please refer to Ferrero Food Service team and the brand guidelines published on this website for further information on any intended commercial use.