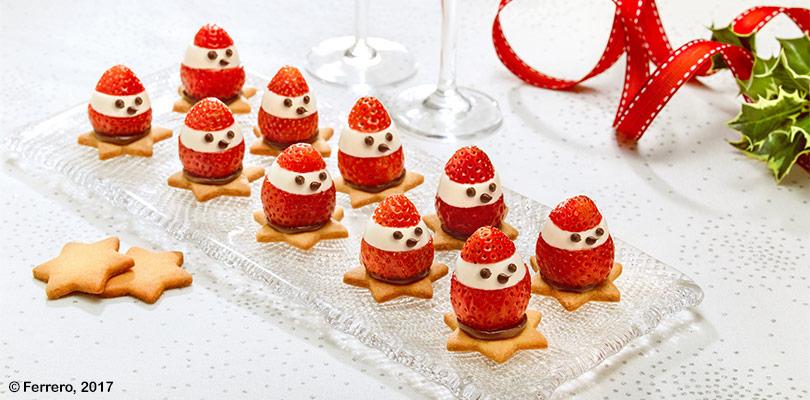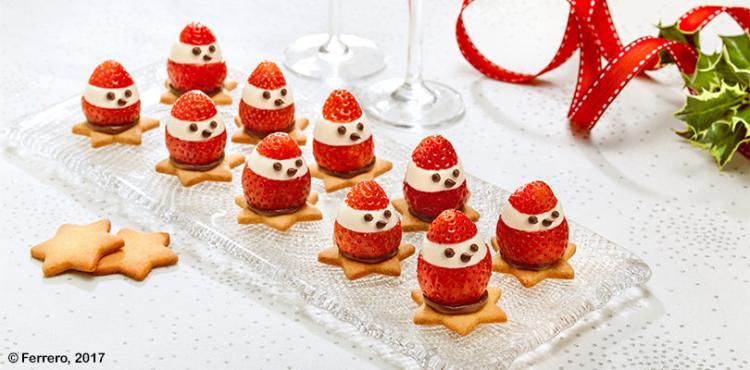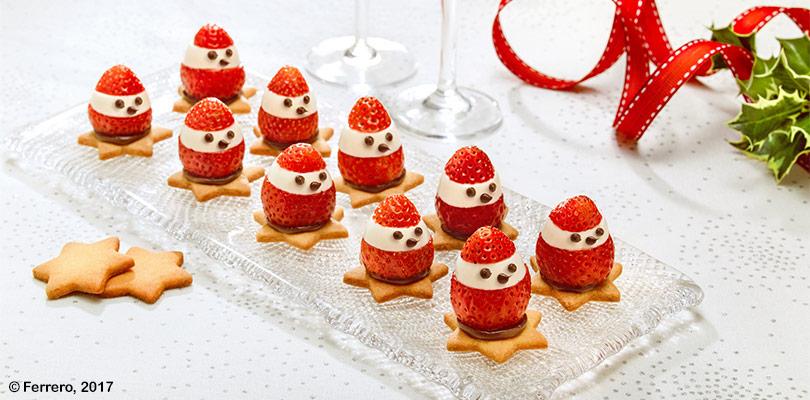 STRAWBERRY SANTA CLAUS WITH NUTELLA®
Discover our product
Serves: approx. 20 portions
Portion: 3 pieces
Ingredients
33 g Nutella®
60 strawberries
Pastry:
125 g flour
70 g butter
50 g sugar
1 whole egg
Pinch of salt
Panna cotta:
125 cl cream
50 cl milk
1/2 vanilla pod
4 sheets of gelatine
50 g sugar
Cookies & Biscuits
Dinner Lunch Mid-afternoon
Banqueting Christmas
Procedure:
Pastry:
In a food mixer, mix together the butter with the sugar, gradually add in the egg and then finally the sieved flours.
Leave to rest in the fridge for approx. 2 hours, then roll out the dough to a thickness of approx. 3 mm. Use a star-shaped dough cutter to cut out the bases on which the strawberries will be placed.
Cook at 190°C for approx. 15 mins.
Panna cotta:
Wet the gelatine in a container of cold water. Heat up the milk, the cream and the sugar to a temperature of approx. 70°C. Squeeze out the gelatine and then add it and mix all together using a whisk.
Pour the panna cotta into the special hemispherical moulds of 3 cm in diameter and put in the fridge for a couple of hours.
Assembly:
Select 60 nice, medium-sized strawberries and use a small knife to cut off the pointed ends. Put the pointed ends to one side as they will be used later as Santa hats.
Hollow out the strawberries and fill them with approx. 5 g Nutella®, then place them onto the pastry bases using some Nutella® to make them stick.
Remove the hemispheres of panna cotta from the moulds and place them on top of the strawberries, finishing them with the pointed ends of the strawberries.
Decorate the panna cotta with melted chocolate to make faces.
NUTELLA® is a registered trade mark of Ferrero SpA. Any use of the NUTELLA® trade mark must be authorized by the trade mark owner. Please refer to Ferrero Food Service team and the brand guidelines published on this website for further information on any intended commercial use.