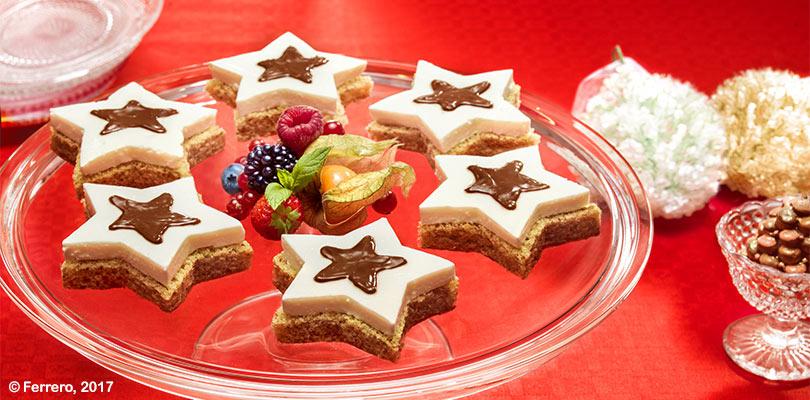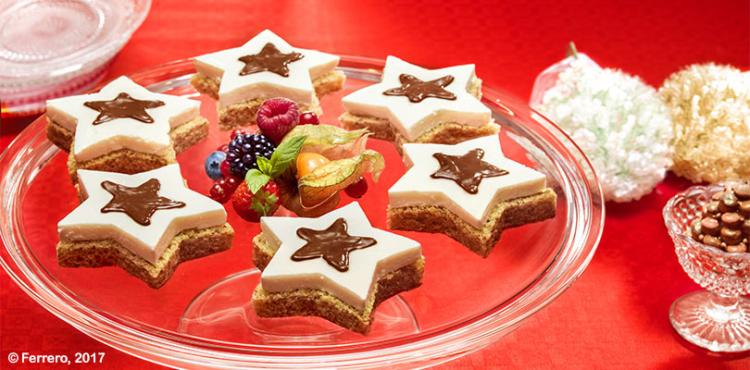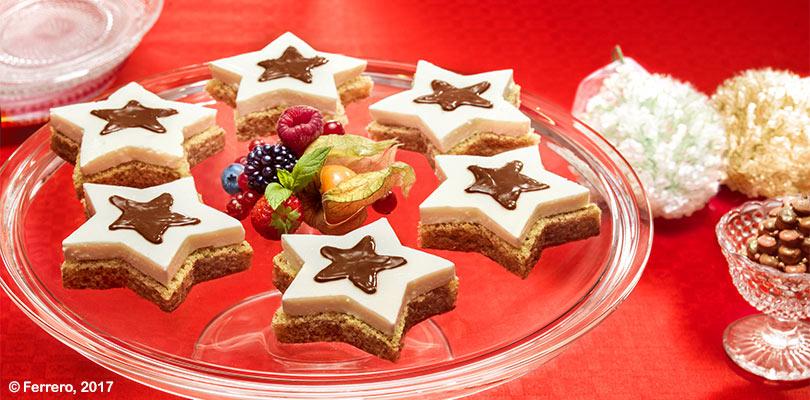 CHEESECAKE STARS WITH NUTELLA®
Discover our product
Serves: approx. 20 portions
Portion: 1 piece
Ingredients
Hazelnut base:
100 g butter
50 g granulated sugar
50 g icing sugar
50 g weak flour
50 g fumetto (corn flour)
60 g hazelnut paste
60 g chopped hazelnuts
45 g egg whites
40 g egg yolks
1 g salt
Cheesecake:
200 ml cream
250 g Philadelphia
50 g sugar
5 g gelatine
Cakes / Mini Cakes
Dinner Lunch
Banqueting Christmas
Procedure:
Hazelnut base:
Beat the butter together with the icing sugar in a food mixer and beat the egg yolks separately.
Beat the egg whites together with the granulated sugar until stiff.
Mix the egg whites into the egg yolks, the sieved flours and salt, the hazelnut paste and the chopped hazelnuts. Incorporate together with a spatula and cook in a static oven at 170°C for approx. 40 minutes.
Once it has cooled down, use the special star-shaped cutters to cut out hazelnut cakes of approx. 1.5 cm in depth and 17 g in weight.
Cheesecake:
Put the gelatine in a container of cold water. Mix the cheese together with the sugar. Beat 150 ml of cream. Separately, warm up the rest in which we will melt the gelatine after it has been squeezed out.
Carefully mix it all together, then leave it to rest in the fridge until it reaches the ideal consistency.
Cut out star shapes from the mixture which is 1.5 cm in thickness, cutting star-shaped holes in the middle (as shown in the image) into which you then add approx. 20 g of Nutella®.
Complete by placing the cheesecake onto the hazelnut base and decorate with Nutella®.
NUTELLA® is a registered trade mark of Ferrero SpA. Any use of the NUTELLA® trade mark must be authorized by the trade mark owner. Please refer to Ferrero Food Service team and the brand guidelines published on this website for further information on any intended commercial use.