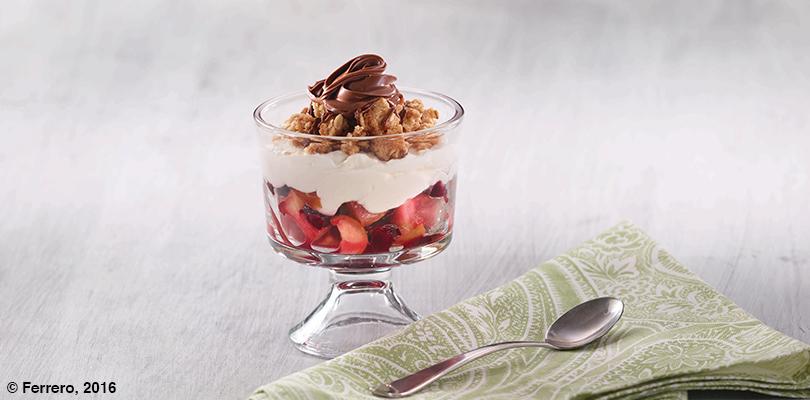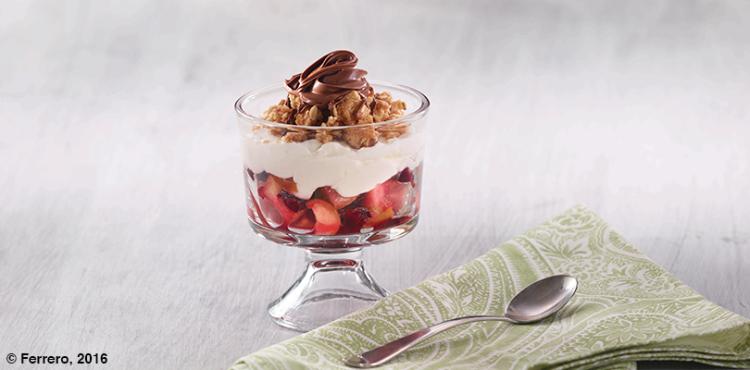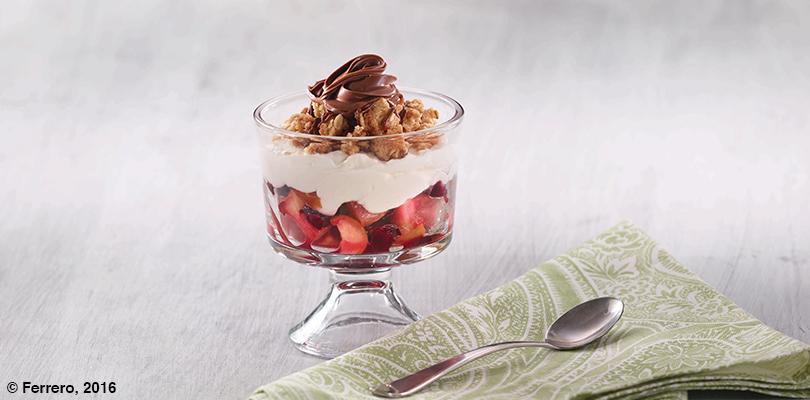 FARMERS FRUIT CRUMBLE PARFAIT WITH NUTELLA®
Discover our product
Yields: 12 Parfaits
Portion: 1 Parfait
INGREDIENTS
Filling
5 apples
5 pears
120 ml chopped Michigan cherries,
pit removed
120 ml sugar
Crumble Mixture
160 ml flour
180 ml brown sugar
1 pinch salt
90 g ice water
240 ml rolled oats
1 Kg plain yogurt
255 g Nutella®
720 ml - apple, pear filling
120 ml crumble mixture
Yogurt parfait
Vegetarian
Breakfast Mid-morning
All year round
Procedure for filling:
Cut up fruit and remove pits and seeds. If too large, cut into 6 mm thick slices. Toss fruit and chopped Michigan cherries in a bowl with lemon juice, sugar and a bit of nutmeg. Bake in oven at 180°C for 45minutes. Remove and chill.
Procedure for crumble mixture:
Combine the flour, sugar, salt in a bowl. Cut in the butter and mix until mixture resembles
coarse cornmeal. Sprinkle in ice water, mix until the crumble mixture hold together and
forms little clumps. Add in rolled oats and mix. Bake at 160°C for about 25 minutes or until golden brown.
Method:
Make fruit filling as directed above. Make crumble mixture as directed above.
Assembly:
Place 57 g of fruit filling on the bottom of parfait glass. Top fruit filling with 85 g of
plain yogurt, then layer on top with 18 g crumble mixture. Top with a dollop of Nutella®.
NUTELLA® is a registered trade mark of Ferrero SpA. Any use of the NUTELLA® trade mark must be authorized by the trade mark owner. Please refer to Ferrero Food Service team and the brand guidelines published on this website for further information on any intended commercial use.