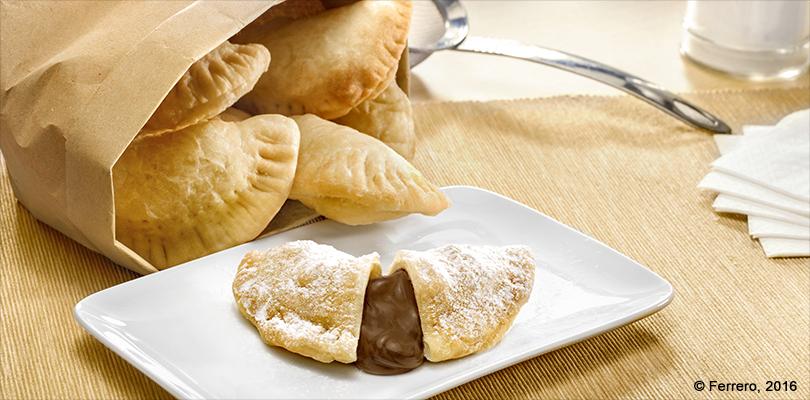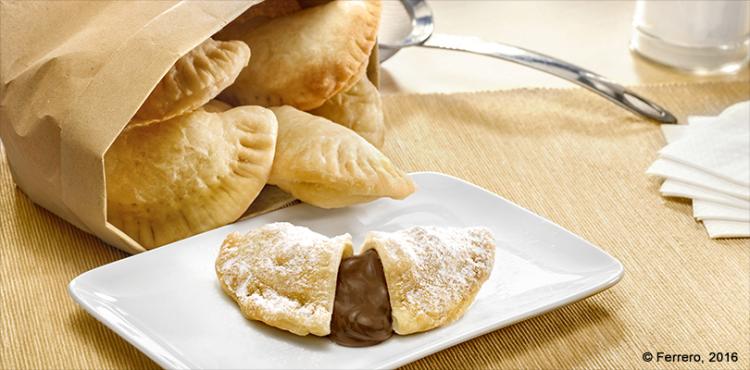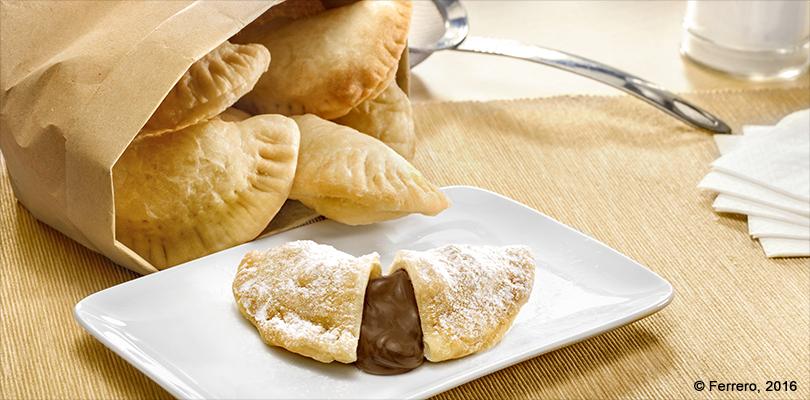 GOLDEN PARCELS WITH NUTELLA®
Discover our product
For 30 parcels.
3 Parcels per portion
Ingredients
400 g plain flour
55 ml olive oil
8 g salt
180 ml water
10 g brewer's yeast
150 g Nutella®
Pastry
Vegetarian
Mid-afternoon Mid-morning
All year round Banqueting
Procedure:
Using a silicone mould (e.g. a silicone ice cube tray) make Nutella® "nuggets" of around 5 g each and leave them in the freezer for at least 2 hours.
Put the flour in a bowl and add all the other ingredients. Mix vigorously into a smooth, even dough. Leave to chill in the fridge for 1 hour.
Using a rolling pin, roll out the dough into a thin sheet (approx. 3 mm) and make circles 10/12 cm in diameter with a biscuit cutter. Brush half of each circle of dough with water and place a Nutella nugget on top.
Close the parcel by folding it over into a half-moon shape and leave in the freezer for at least 1 hour.
Heat the olive oil and fry the parcels for 15 seconds, draining them after on kitchen paper, and serve 3 warm parcels per person with a dusting of icing sugar.
NUTELLA® is a registered trade mark of Ferrero SpA. Any use of the NUTELLA® trade mark must be authorized by the trade mark owner. Please refer to Ferrero Food Service team and the brand guidelines published on this website for further information on any intended commercial use.